Here it is! The World Cup Book Giveaway!!!! To enter....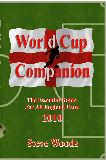 1.Grab "my button" and put the book on your blog. This will automatically give you two chances to win. Send a comment under this post, to let us know that you have done this.
2.Copy and paste the book on your Facebook. Again, let us know by way of a comment in this post that you have done this.
3.Talk about the book on Twitter. And again, let us know.
You have four chances to win. Leave a comment for each entry.
Internationals are welcome. Please enter before Tuesday 1 June, when we will post the winner´s name.